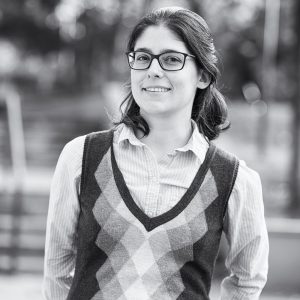 Instructor
Ph.D., University of Miami
Areas of Interest: Metaphysics and Philosophy of Mind
Personal Homepage: www.rinatzinman.weebly.com
Email: rina.tzinman@bilkent.edu.tr
Phone: +90-312-290-1049
Office: H233a

About
Rina Tzinman studied in Tel Aviv and in Berlin before receiving her Ph.D from the University of Miami (2016). After graduating, she joined the Bilkent Philosophy Department in Fall 2016. Her main research areas are metaphysics and philosophy of mind, and she has side interests in feminist philosophy and disability studies. She is especially interested in personal identity, situated cognition (in particular, in embodiment and extended cognition), bodily awareness and self-awareness. She previously wrote on the persistence conditions of organism. Currently she is interested in issues at the intersection of philosophy of mind and metaphysics. She is working on a new theory of personal identity, which tries to keep some of the main intuitions motivating psychological and physical theories of personal identity. In addition, she is working on a new puzzle for certain popular views in personal identity, and on a paper that clarifies the relation between bodily awareness and self-awareness and attempts to argue that the way the relation between the two has been conceived in the past is confused.
Sample publications
Tzinman, R. (forthcoming). Is Romeo Dead? On the Persistence of Organisms. Synthese.
Tzinman, R. (2016). Against the Brainstem View of the Persistence of Human Animals. In A. Herausgegeben von Blank (Ed.), Animals: New Essays. Munich: Philosophia Verlag.