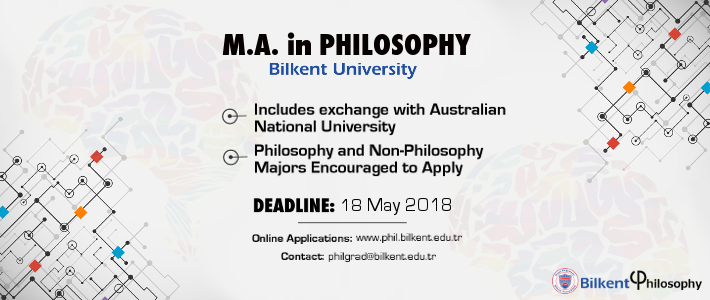 We are now accepting applications for the M.A. in Philosophy (for those starting the degree in Fall 2018).
Successful applicants will be eligible to receive a comprehensive scholarship (tuition waiver, accommodation and stipend).
Up to five successful applicants will have the opportunity to spend a semester at the School of Philosophy at Australian National University.
The philosophy department at Bilkent is ranked #1 in Turkey for research. Our research focuses on central areas of analytic philosophy: metaphysics and philosophy of mind, and social and political philosophy. We also have strengths in the history of philosophy.
Applicants from all disciplines are encouraged to apply. We also welcome applications from international students. The language of instruction for all courses is English.
Admission requirements and online application can be found here.
Poster: click here.
Deadlines for Fall 2018 applicants:-
Application deadline: 18 May 2018 (at 5.30pm local time)
Written exam: 24 May 2018*
Interview: 25 May 2018*
* International students may take the written exam remotely and complete the interview via skype. A similar arrangement may be possible for Turkish students who are not based in Ankara.