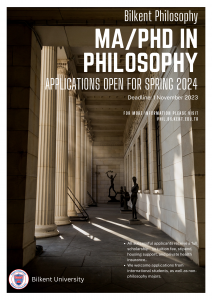 We are now accepting applications from those planning to start in Spring 2024. Entrance exams and interviews (for those invited) will be conducted online.
The M.A. degree in philosophy is designed to develop an advanced understanding of philosophical problems, especially those in contemporary analytic philosophy and the history of philosophy. It provides students with an understanding of key philosophical debates and problems, and encourages them to develop and defend their own argumentative position. Coursework will often have an interdisciplinary character. Many courses will explore the impact of empirical and theoretical developments in other disciplines on contemporary philosophical debates.
This is a two-year masters that includes coursework and a thesis. The language of instruction for all aspects of the Program is English.
All successful applicants will receive a comprehensive scholarship: tuition waiver (i.e. there are no tuition costs), subsidized accommodation if needed, private health insurance, and monthly stipend.
Up to five successful applicants will have the opportunity to spend a semester at Australian National University (pandemic permitting). The exchange is fully funded. [Photos]
The philosophy department at Bilkent is ranked #1 in Turkey for research.
Our research focuses on central areas of analytic philosophy: metaphysics and philosophy of mind, and social and political philosophy. We also have strengths in the history of philosophy.
Applicants from all disciplines are encouraged to apply. We also warmly welcome applications from international students.
Please carefully review the minimum admission requirements before applying.
Enrolment in the program is limited, and meeting minimum requirements does not guarantee admission.
Apply