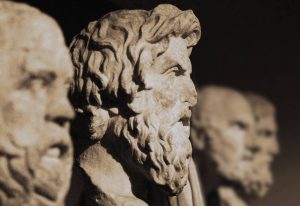 Philosophy is one of the world's oldest academic subjects and strives to answer fundamental questions such as, What is consciousness? Who should rule? What is knowledge? What is freedom? What is beauty? What is good? What is a number? By trying to answer these questions philosophy connects with many other academic subjects, including psychology, politics, law, physics, and mathematics. This means that philosophy is by its very nature an interdisciplinary subject.
Curriculum
The curriculum for the B.A. in Philosophy at Bilkent is designed to produce graduates who are skilled problem-detectors, versatile problem-solvers and confident communicators. In other words, it aims to develop individuals who can adapt in a world characterized by rapid change.
The curriculum is broad-based, which means that students will have the opportunity to take courses in a number of academic fields, including physics, biology, mathematics, literature, arts, history and psychology.
In addition, students will have the opportunity to take courses that aim to develop skills for the workplace (for example, languages, statistics, computer programming and skills, summer job training).
The philosophy courses in the curriculum provide a sufficient basis for pursuing graduate studies in philosophy and related disciplines. Those courses encompass key texts and arguments in the history of philosophy, as well as central debates in contemporary philosophy.
For a detailed description of the curriculum see the Online Catalog.
Courses
Freshman
Sophomore
Junior
Senior
Electives