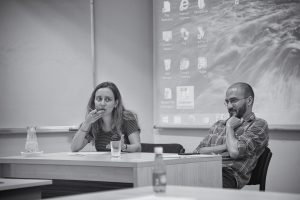 We are now accepting applications for our M.A. and Ph.D. in Philosophy, for those starting in Spring 2020.
Deadline for early applications: 1 November, 2019
Deadline for regular applications: 13 December, 2019
All successful applicants receive a comprehensive scholarship (tuition waiver, monthly stipend, housing support & private health insurance). Up to 5 will be selected for a fully-funded exchange with ANU Philosophy. We warmly welcome applications from international students, as well as philosophy and non-philosophy majors. The language of instruction for all aspects of the program is English.
The philosophy department at Bilkent is ranked #1 in Turkey for research. We are an internationally diverse department with eight different nationalities represented among our faculty. Faculty received their doctoral degrees from institutions such as Princeton University, London School of Economics, Stanford University, and Oxford University and have published in leading journals and international publishers.
Admission to the Program is highly competitive.
For more information about the doctoral program and application process click here.
For more information about the master's program and application process click here.
Apply