5th Bilkent Undergraduate Philosophy Conference
Conference date: Saturday, February 26, 2022 (via Zoom)
Conference Program:
(Istanbul time, GMT+3)
You can download the printable program here.
14:00-14:05    
First Session:
14:05-14:35  
Ecem Güvercin (Bilkent University, Turkey)
Tragedy of Commons: The Unjustification of Efforts of Survival
14:35-15:05  
Zhiyuan (Charles) Zhang (The Chinese University of Hong Kong, China)
Definite Descriptions are Indeed Not Semantically Ambiguous: A Semantic Test
Second Session:
15.20-15:50  
Sabina Pachlopníková (King's College London, England)
A Subtle Touch: Hegel and Lacan in Discourse
15.50-16:20     
Aayush Giri (University of Delhi, Ramanujan College, India)
An inquiry into the nature of perception – Biases & Prejudices
Third Session:
16.35-17:05      
Hasan Ayer (Ankara University, Turkey)
Can Groups Hold Rights? Constructing A Normative Basis for Collective Rights Without Attributing Groups a Moral Status
17.05-17:35       
Jakob Gertler (Southern Utah University, USA)
Identity, Silencing, and Non-Communicative Discursive Injustice
17.35-17:40
If you have any questions, you can reach us at philstudentconf@bilkent.edu.tr
Organizers:
Bilkent University Department of Philosophy
Bilkent Philosophical Society
Organizing Committee:
Faculty Supervisor:
Dr. Tufan Kıymaz (Bilkent University, Department of Philosophy)
Undergraduate Committee Members:
Eylül Adıgüzel (Bilkent University, Department of Philosophy)
Esma Bihter Akın (Bilkent University, Department of Philosophy)
Damla Belemir Aydın (Bilkent University, Department of Philosophy)
Hasan Alparslan Bayrak (Bilkent University, Department of Philosophy)
Berk Celayir (Bilkent University, Department of Philosophy)
İrem Sena Karakoç (Bilkent University, Department of Philosophy)
Gamze Kaya(Bilkent University, Department of Philosophy)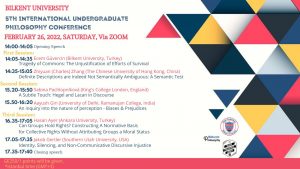 ---
Call for Abstracts: (CLOSED)
We invite undergraduate students from all departments and universities to take part in the 5th Bilkent Undergraduate Philosophy Conference on Saturday, February 26, 2022, which will be held online via Zoom. The purpose of this conference is to provide an academic platform for undergraduate students to share their philosophical views and arguments with their peers.
Presentations will be in the form of a 20-minute (live or pre-recorded) talk followed by a 10-minute question-answer session. Pre-recorded presentations are possible but the question and answer session that follows the presentation will be live in each case.
Submission Guidelines:
There is no restriction on the subject matter, as long as a philosophical argument is presented.
Submissions and all other inquiries should be sent by e-mail to philstudentconf@bilkent.edu.tr
Participants should send an abstract of 300-500 words.
Your abstract should have the title on top, but it should be anonymous and not in any way give away the identity of the author (this is necessary for the blind-review process).
Please include in the body of the submission e-mail your full name, university affiliation, the title of your paper, and your contact information (such as your e-mail address). Also, please indicate whether you would like to make a live or pre-recorded presentation.
The submitted abstracts and PowerPoint presentations should be in English. The conference language will be exclusively English.
The deadline for submission is January 23, 2022. Accepted submissions will be announced by January 30, 2022.
All presenters are expected to use PowerPoint (or similar) slides during their presentations. The accepted participants will submit either their pre-recorded video or PowerPoint (or similar) presentation by February 19, 2022.
Among the accepted submissions that are presented successfully at the conference, some of them will be selected by the conference committee to be published on Bilkent Philosophy YouTube Channel, with the permission of the presenter. Also, the longer version of their abstract of the selected presentations will have the chance for publication in Prokopton, Bilkent University Undergraduate Journal of Philosophy (prokopton.bilkent.edu.tr), as part of the conference proceedings. The final decision about publication belongs to the Prokopton editorial board.
Important Dates:
January 23, 2022: Submission Deadline
January 30, 2022: Announcement of Accepted Submissions
February 19, 2022: Pre-recorded Video or Slide Submission Deadline
February 26, 2022: Conference Date