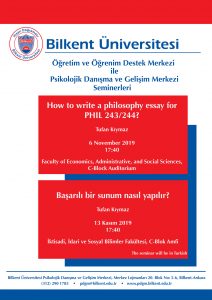 Başarılı Bir Sunum Nasıl Yapılır?
Tufan Kıymaz
Çarşamba, 13 Kasım, 17:40
FEASS C-Blok Amfi
Sunum yapmak birçok dersin zorunlu etkinlikleri arasında yer alıyor. Bu konuşmada, sunum yaparken ve sunum tasarlarken öğrencilerin sıklıkla yaptıkları hatalar ortaya konacak ve bu hatalardan kaçınarak başarılı bir sunum yapmanın yolları tartışılacak.
The seminar will be in Turkish.