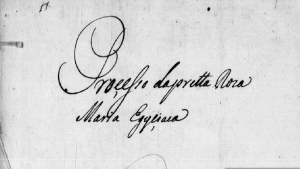 Joana Serrado (University of Porto, Instituto de Filosofia)
"Can a Female Slave be a Philosopher? Rosa Maria, the Transatlantic Black Slave and Immanuel Kant"
Date: Tuesday, 30 October, 2018
Time: 1240 – 1330
Place: H-232
Organized by the Society for Women in Philosophy of Turkey.
Abstract: The 21st century is witnessing a democratisation of the history of philosophy and, particularly the recovery of women authors. But even then the angst of influence is still most prevalent. Anne Conway is included because of her connection to Leibniz, Emile du Chatelet because she translated and commented Isaac Newton´s Principia, Elisabeth of Bohemia because of her correspondence with Descartes.
The role played by elitist only serves to reinforce the role of privileged women in the history of philosophy, failing thus the basic purpose of feminism itself- which is a social and political transformation that enables women and men in their plurality to be full agents in their own right in the construction of a society according to the values of justice, diversity and inclusivity. A de-colonialist turn, therefore.
Here I focus on the works of Rosa Maria Egipcíaca da Vera Cruz, an eighteenth century slave who lived in three different continents: born and captured in Benin, West Africa, trafficked to Brazil, and persecuted in Lisbon. My goal is this paper is discuss her work in relation to Kant's however improbably this might seem.
About the speaker: Joana Serrado (BA, Coimbra 2001, MA, Porto 2005, Phd Groningen 2014) is currently a researcher at the Instituto de Filosofia, University of Porto. Previously she was the Gordon Milburn Junior Research Fellow in Mysticism at the University of Oxford (2013-2017) and Fulbright Fellow at Harvard Divinity School (2010). Her research focuses on medieval and early modern history of ideas, philosophy and theology, in dialogue with feminist theory. Serrado´s work has appeared at Early Modern Women and Medieavalia: Textos e Estudos and she has forthcoming books in the series "Other Voices in Early Modern Europe", and with Routledge. Her doctoral thesis on anxiousness in the Cistercian Joana de Jesus (1617-1681) is included in Bernard McGinn´s History of Christian Mysticism.